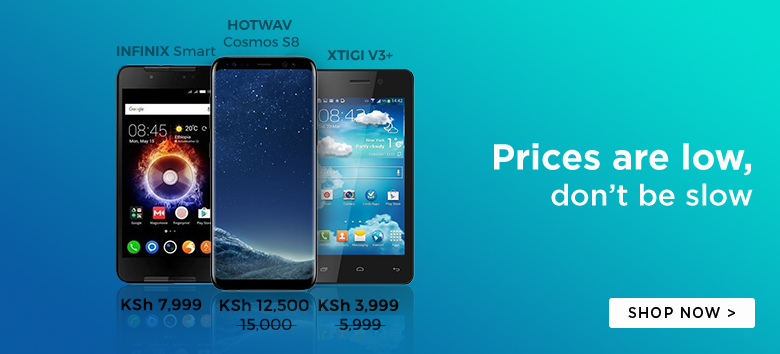 The Alcatel One Touch T'Pop is one of the top trending entry-level handsets currently in the Kenyan Smartphone market.The phone dubbed 'T'Pop' due to its tiny size is an interesting addition and will most definitely be a boost to Alcatel's market share.Safaricom and Orange Kenya so far have the best prices for the phone.
The retail prices will definitely shift the scale towards the French handset manufacturer and influence the buying decisions for the emerging young generation of smartphone enthusiasts.
Here is a comprehensive review of the Alcatel One Touch T'Pop handset.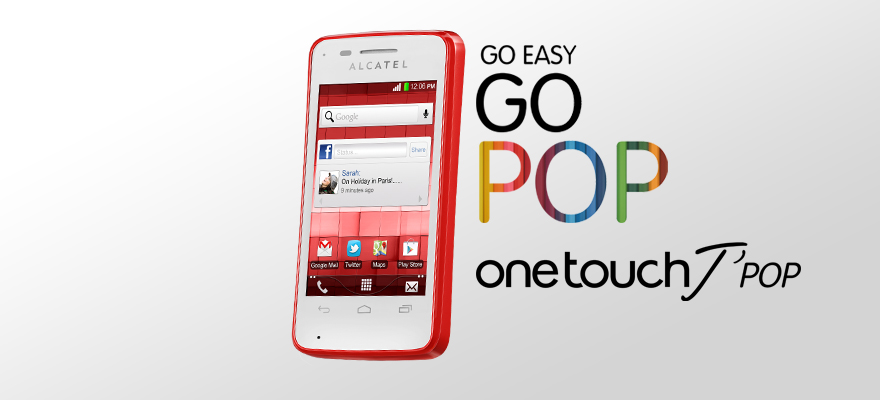 Display
The Alcatel One Touch T'Pop has a 3.5-Inch TFT capacitive 256K HVGA display. The display measures 320 x480 pixels and delivers a 165 ppi resolution density.
As a norm with most entry-level handsets, the phone lacks a corning Gorilla Glass layer protection and hence a screen guard will specifically come in handy for this phone.
Body and Design
Alcatel One Touch T'Pop has compact design with smooth rounded edges. The phone is quite thick but feather weighted with an overall dimension size of 115 x 62.3 x 12.2 mm and weighs in at 118 g.
The body material is all plastic thus lacks a premium luster and feel. However, to make up for this, the phone will be available in a array of colors.Technical Specifications
The phone packs in a 1 Ghz Single core CPU and comes with Android Gingerbread Version 2.3 in box. This is quite a disappointment since the Gingerbread OS is fast becoming an outdated OS.
However, the silver lining to this is that, with the feather weigh OS, the phone is quite responsive and transition between windows is smooth.
For multitasking, Alcatel One Touch T'Pop has some 256MB of RAM. Therefore, users should expect an occasional lag while switching between running apps.
The phone comes with very little of Alcatel customization and as a consequence the phone looks much of the stock version of Gingerbread OS.
Memory
On the Internal Memory, the phone comes with a paltry 512MB capacity. This is a far cry from the 2GB of internal memory found on a similar entry level handset, the Samsung Galaxy Pocket. On the upside the phone supports up to 32 GB of MicroSD storage.
On connectivity, the phone supports up to 7.2 MB/S of 3G data, has Wi-Fi chip plus a Wi-Fi hotspot feature. It is worth mentioning that the phone comes with Bluetooth v 4.0, therefore file sharing is quite a breeze on the device. Additionally, it comes with a Bluetooth proximity feature.
Multimedia
Even for an entry-level device, Alcatel was quite mean on the multimedia aspects of the Alcatel One Touch T'Pop. The phone has a 2MP camera with just Geo-Tagging and Touch Focus features.
However, to keep things fair, they included an RDS chip to the radio receiver.
Battery Life
Battery life is an important aspect to consider before making up your mind to purchase a smartphone. The Li-Ion 1400 mAh battery coupled with the featherweight Gingerbread OS gives the Alcatel One Touch T'Pop satisfactory battery life.
After a full recharge, the battery will pack in enough juice power to take you through 1-2 day of average use.
Tech Trends Diary Rating
Alcatel One Touch T'Pop Review [usr 7.9]
Competitors
For users seeking an alternative to the Alcatel One Touch T'Pop, they may look up at the Samsung Galaxy Pocket, the Samsung Galaxy Young or Nokia Asha 311.
Price in Kenya
Safaricom Retail Shops price the phone at Ksh 6,499 with a 1.5GB Data Bundle.
Orange Kenya Retail Shops have the Dual SIM Alcatel One Touch T'Pop bundled with 2 GB of data spread over four months priced at 6,999.
It will be awesome if you rate this gadget (it means alot!)
Alcatel One Touch T'Pop Review and Price in Kenya

,