8.4
Infinix Hot Note X551
Price: Ksh. 12,500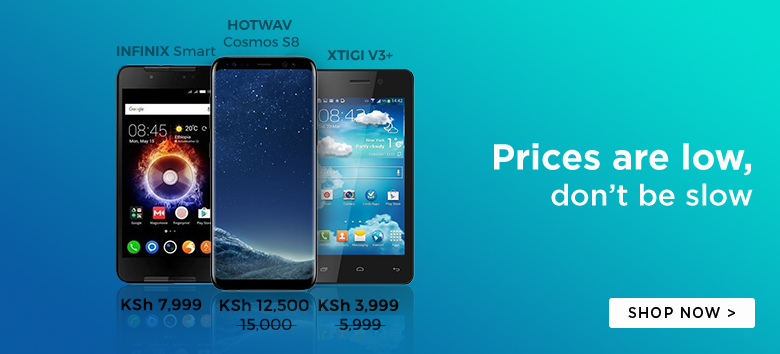 The Infinix Hot Note X551 is a hot selling smartphone that offers an excellent Phablet experience at a budget price tag.
We did a technical specifications overview of the Infinix Hot Note a while back and it's now time for a full review of the Phablet.
We were able to get hold of a review unit of the Infinix Hot Note courtesy of Jumia Kenya and here is what the Infinix Hot Note has to offer.
Unboxing
The Infinix Hot Note comes in a neatly designed light brown packaging box, a packaging concept similar to what you will find on high end Samsung devices.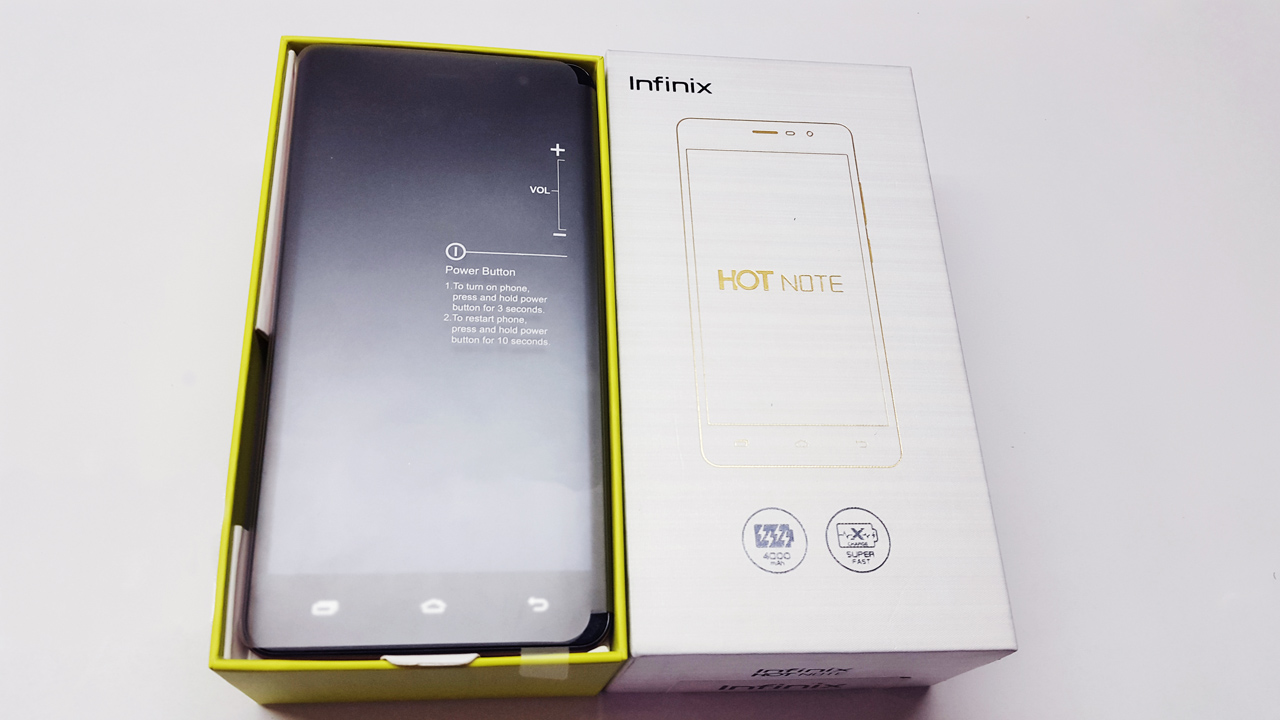 What's in the box?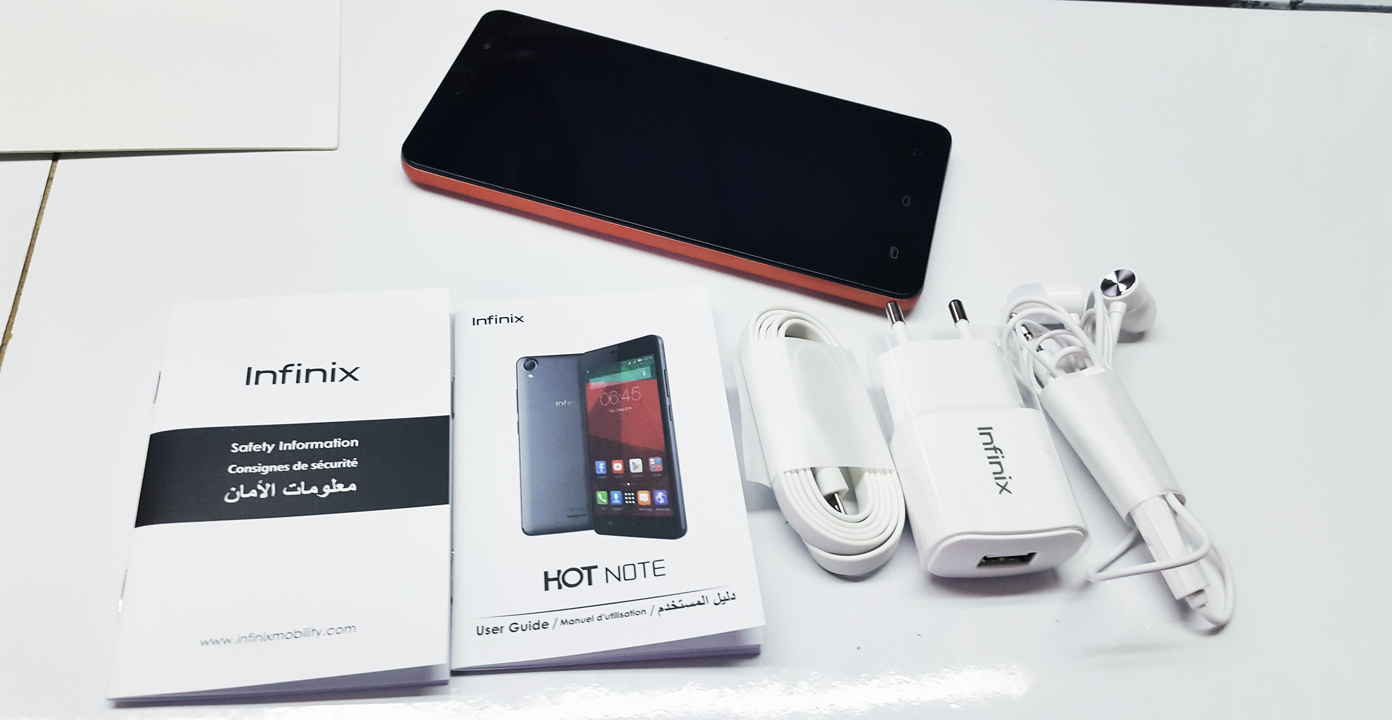 Inside the box you will find;
The Infinix Hot Note
AC Charger
USB Cable
In Ear Earphones
User Guide and Safety Information Manual
Design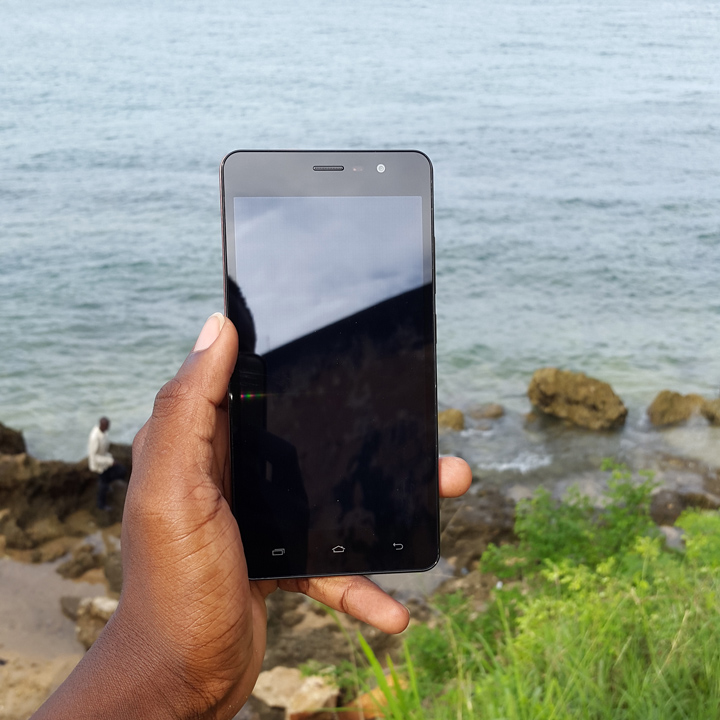 Frame Dimensions: 155 x 77 x 8.9 mm
Weight: 172g
The Infinix Hot Note X551 is enormous. You will completely love the smartphone if size matters to you. The smartphone is however, relatively light and it feels even lighter in your palms.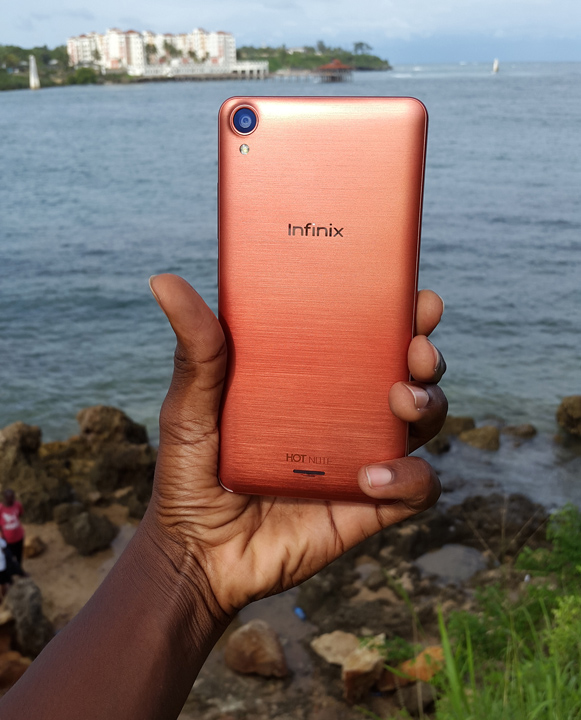 You get some smooth well curved corners that work out extremely well at enhancing the ergonomics of the smartphone. The rear cover of the Hot Note features what feels like faux wood and it feels awesome to slide your fingertips over it.
The smartphone has a svelte profile, a factor that makes it able to comfortably slide into your palms despite its enormous size.
The Infinix Hot Note X551 has a super slim removable rear cover and underneath it you will find two Micro SIM slots and a Micro SD card slot.
The Infinix Hot Note has a non-removable battery.
Display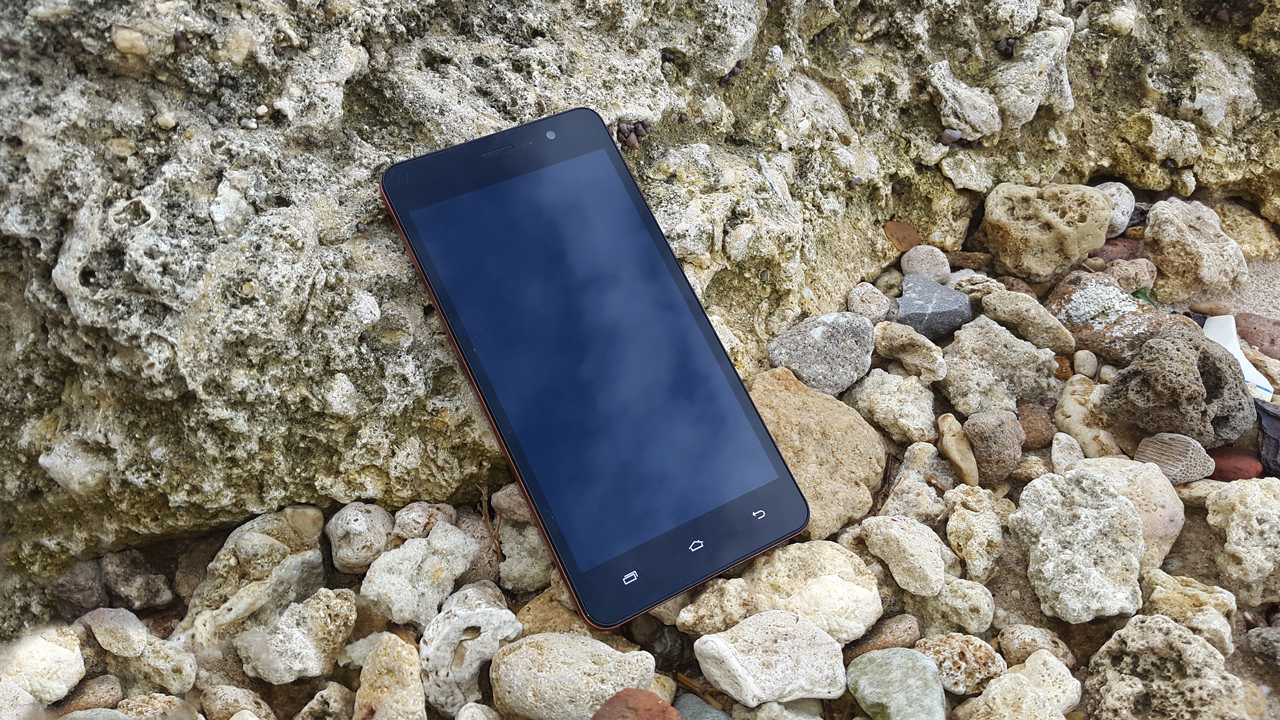 Display Size: 5.5 inches
Display Type: IPS LCD
Screen Resolution: 720 x 1280 pixels
Screen Resolution Density: 267 ppi
Screen Protection: None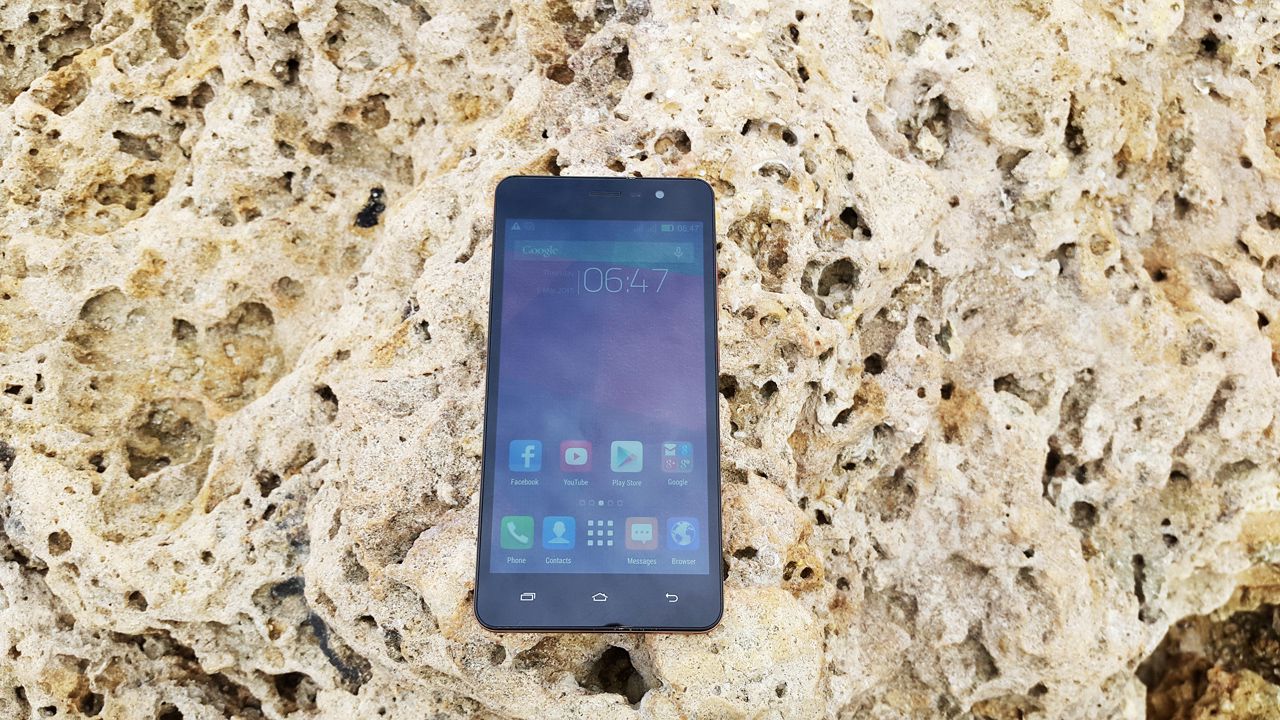 The Infinix Hot Note has a 5.5-inch 720p display. The choice of a 720p display was essential since anything less than that would have looked ugly on the device.
The vibrancy of the display is evident. Colors do look vibrant on the display even under a 0% display setting.
The display is extremely bright and can be irritating to the eye especially in the dark. The Infinix Hot Note has a light sensor and thus you can just select the Automatic brightness option and the prevailing lighting conditions will determine the brightness level.
The Infinix Hot Note performs quite well under direct sunlight and the display is visible. Viewing Angles are super impressive.
One flaw i noticed with the Infinix Note has to do with its wallpaper setting. The display struggles to optimize custom HD wallpapers.
Performance
Operating System: Android 4.4 (KitKat)
CPU: Octa-core 1.4 GHz Cortex-A7
RAM: 1 GB
Internal Memory: 16 GB
Micro SD: Yes, up to 32 GB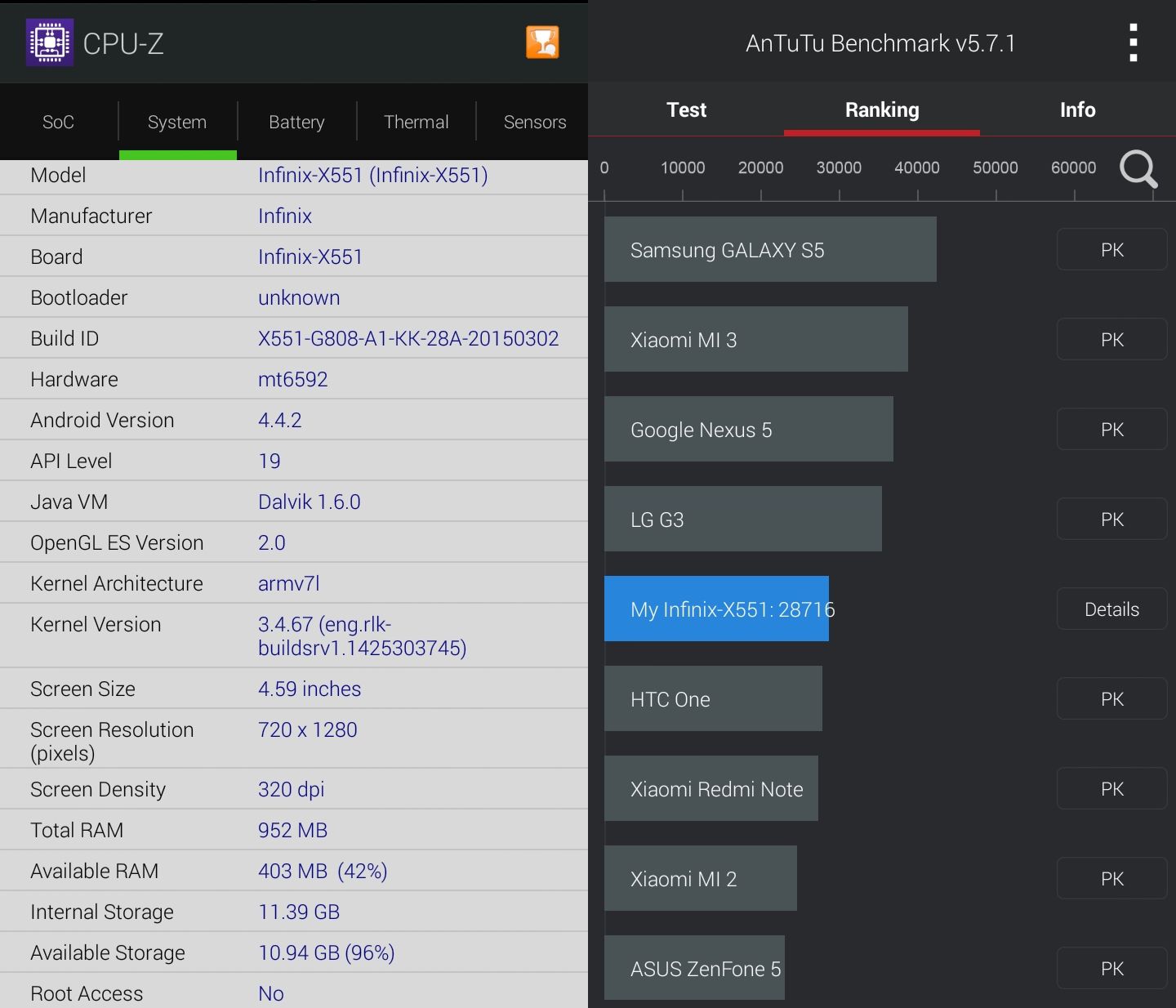 I expected the Infinix Hot Note performance to be awesome, but I didn't expect it to be this splendid. Lag is non-existent and the transition from one menu to the next is a flawless affair. Eight 1.3 GHz cores power the Infinix Hot Note and that is the core reason behind its stellar performance.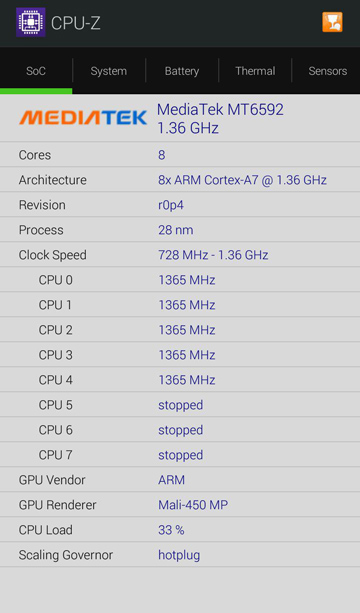 The Infinix Hot Note runs Android 4.4 (KitKat) out of the box. The OS is almost stock Android with just a limited number of Blotware Apps and Services.
The smartphone comes with a number of Applications pre-installed such as WhatsApp and Swiftkey. You can however, uninstall all the pre-installed Apps at your pleasure.
The Hot Note comes with 16 GB internal memory, 10 GB of which is available to you. In addition to that the smartphone has a Micro SD Slot that can to support up to 32 GB of memory.
Camera
Rear Camera: 8 MP
Secondary Camera: 2 MP
LED Flash: Yes
The Infinix Hot Note has an 8 MP rear camera and 2 MP Rear snapper. Most budget smartphones have camera specifications that look good on paper but are disappointing in action
It is however, different with the Infinix Hot Note X551. Its rear camera specifically, surpassed my expectations. The rear camera captures images at a 3840 x 2160 pixels resolution and the results are stunning.
Here are sample images captured by the Infinix Hot Note. All the images are unedited and they are as they were captured (just compressed).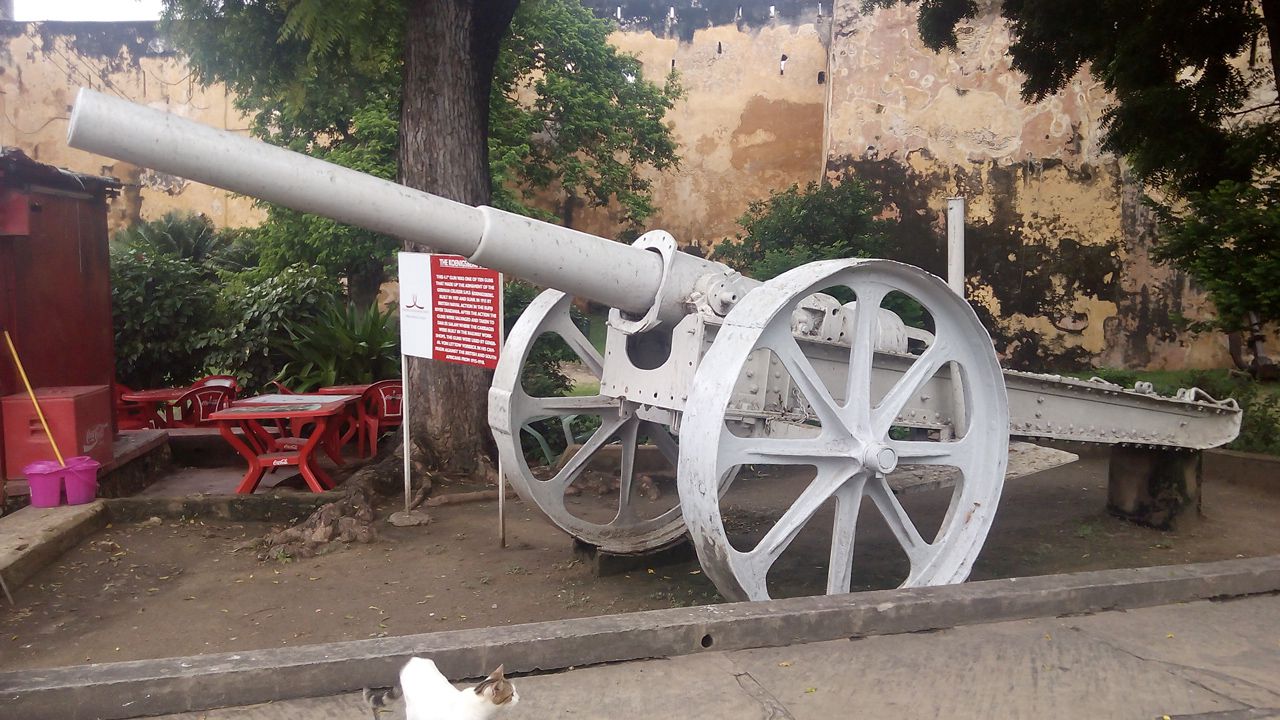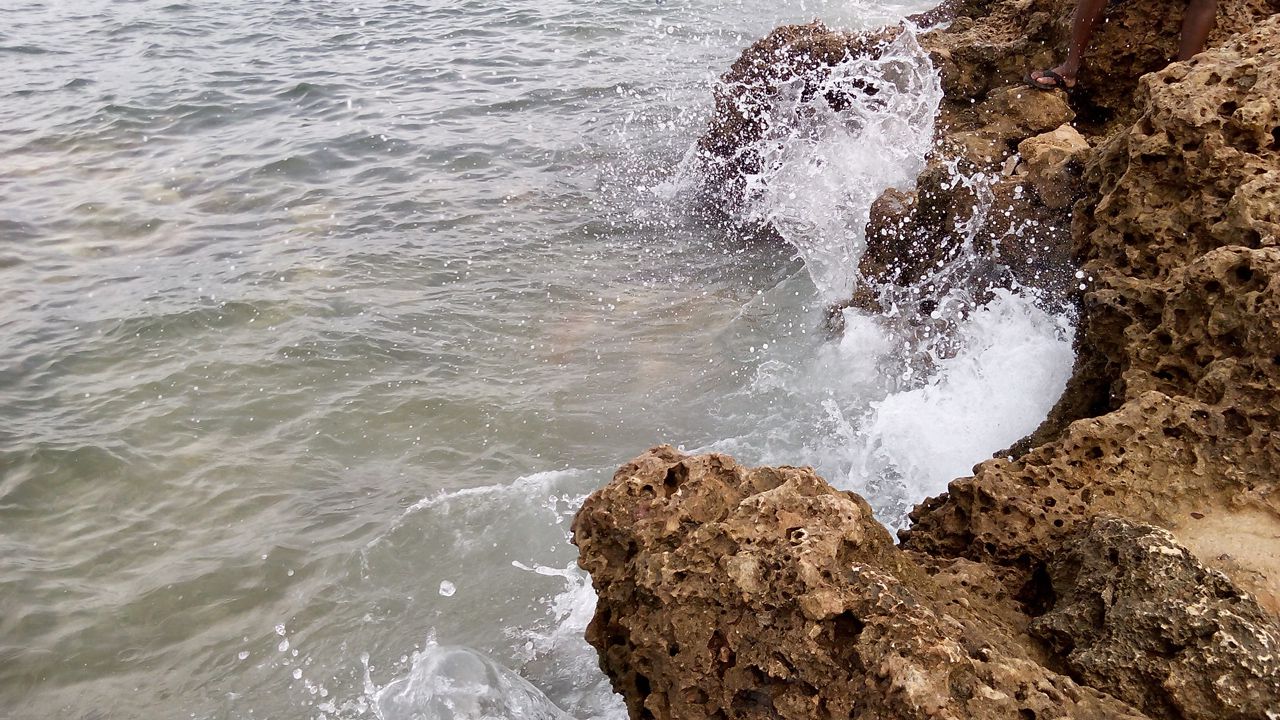 The camera captures video at a 1280 x 720 pixels (720p) maximum resolution which is satisfactory by all standards.
The Hot Note X551 selfie camera is equally impressive. The images aren't as clear as those of the rear snapper but they are good enough to earn you lots of double taps on Instagram.
The Infinix Hot Note camera has a plethora of additional features. I need to write a separate review on that to expound on each of the individual features.
Music and Video Playback
The Music and Video Playback experience on the Infinix Hot Note is a couple of units above average. However, I have an issue with the stock earphones.
The earphones are quite disappointing as they lack the clarity that i think they should have.
The Infinix Hot Note plays 1080p and 720p videos effortlessly with no stutters whatsoever.
Battery
Battery Capacity: Li-ion 4000 mAh
The 4000 mAh battery of the Infinix Hot Note will awe you. Once fully charged you can rest assured of a full day of intensive usage and up of 72 hours of moderate usage.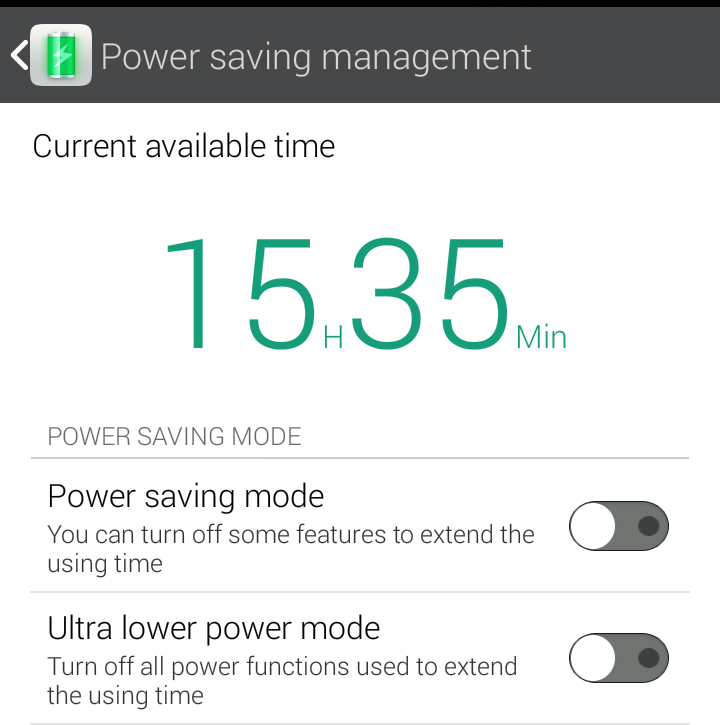 An in-built Power Saving Mode and an ultra-lower Power Mode further complements the enormous Infinix Hot Note battery. The ultra-lower Power Mode works more like what you found on some Samsung smartphones and is excellent at pushing the battery life of the smartphone to the extreme.
Verdict
Smartphone buyers were for long accustomed not to expect premium features at a budget price. Well those days are over.
Infinix Mobile has in its product portfolio a smartphone other vendors will struggle to beat. With the Infinix Hot Note you simply get a lot more than what you pay for.
The Infinix Hot Note X551 has a suggested retail price of Ksh. 12,500 in Kenya.
Order it online and have it delivered to you.
0 84 100 1
Infinix Hot Note X551
Price: Ksh. 12,500

By the way, it will be awesome if you rate the Infinix Hot Note X551
Next: Microsoft Lumia 430: Everything you need to know
Infinix Hot Note X551 Review: Everything you need to know

,