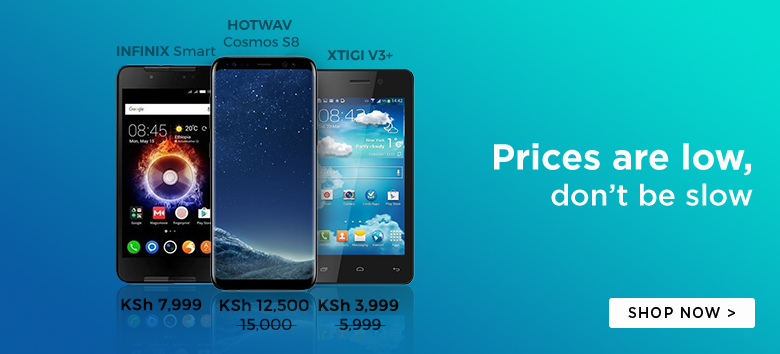 It's official, the Infinix Note 2 is finally here.
The Infinix Note 2 is probably one of the most anticipated budget Android smartphones of the year. This is mainly because the Note 2 is an update of the hot selling Infinix Hot Note Phablet. The Note 2 also offers some significant upgrades that makes it very appealing to budget smartphone buyers.
Related: Inifnix Hot Note Review
That said, here is what the Infinix Note 2 has to offer.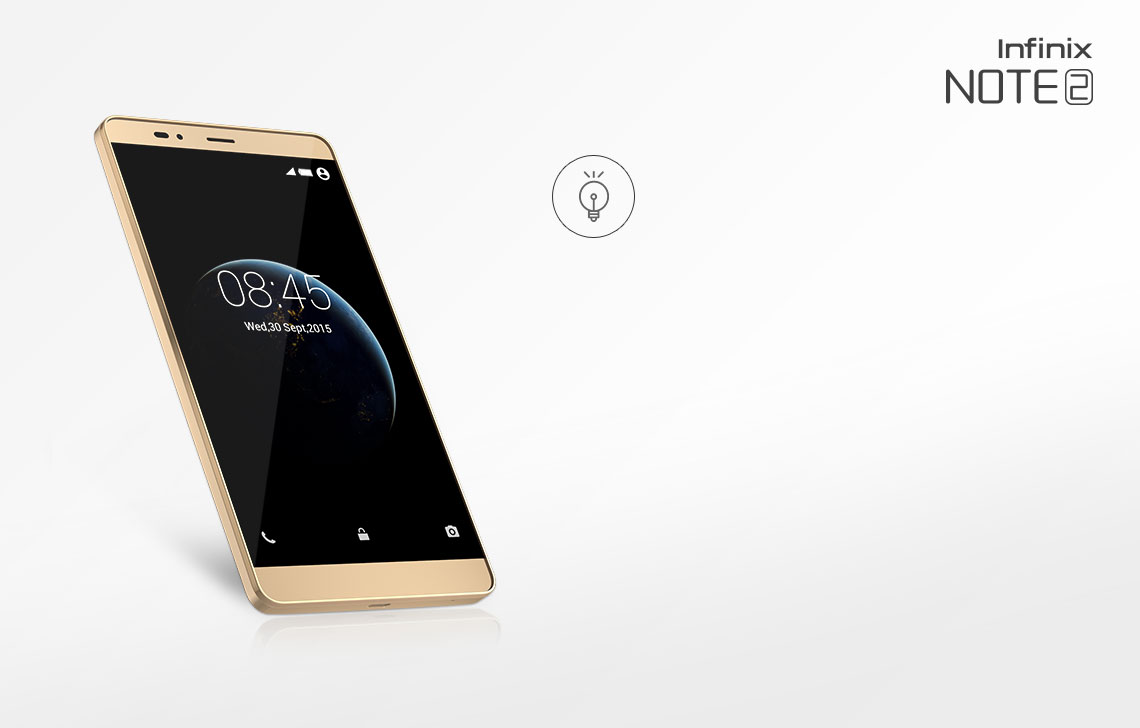 Infinix Note 2 Technical Specifications
Display
Display Size: 6.0 inches
Display Type: IPS LCD
Screen Resolution: 720 x 1280 pixels
Screen Resolution Density: 294 ppi
Screen Protection: None
Related: Smartphone Displays; Everything you need to know
The Infinix Note 2 features a massive 6.0-inch IPS LCD display. The Note 2 display is in comparison to that of the Hot Note, 0.5 inches bigger and this makes the smartphone the largest budget Phablet in the market.
It is however, a complete bummer that the smartphone features 'just' a 720 x 1280 pixels resolution, which leads to an embarrassing 294 ppi screen resolution density due to the humongous display.
The Infinix Note 2 also lacks any form of screen protection, a feature that would have given the smartphone an edge over it rivals. That is however, forgivable considering that being economical with secondary features is what gives the Infinix Note 2 its ultra-low price tag.
Design
Dimensions: 159.5 x 82.5 x 9.3 mm
Weight: 194 g
The Infinix Note 2 is gorgeous. The elegance in its design is awesome and this gives the Note 2 and a premium look, something that often, is rare in budget smartphones.
You get a compact form factor and the Infinix Note 2 is almost bezel less and this creates an illusion that makes the massive display appear even bigger.
Performance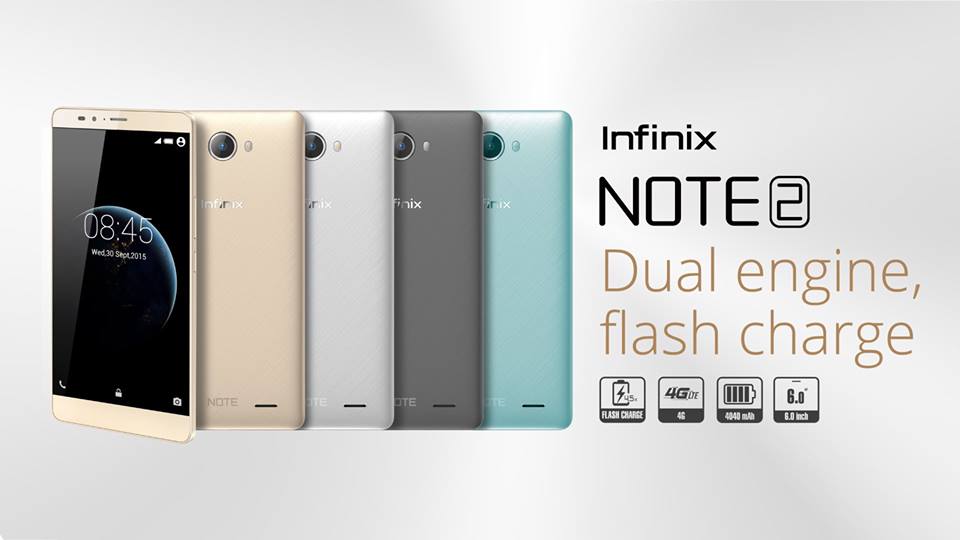 Operating System: Android OS, v5.1 (Lollipop)
CPU: 1.3 GHz Octa-core
RAM: 1/2 GB
Internal Memory: 16 GB
Micro SD: Yes, up to 32 GB
The Infinix Note 2 features a performance profile that is almost identical to its predecessor, the Hot Note. A powerful 1.3 GHz Octa-core CPU powers the smartphone.
Related: Smartphone Processors; Everything you need to know
However, this time round you get an option to choose between 1GB and 2 GB. The pricing of the two variants differs by a couple of thousands.
Another bit is that the Infinix Note 2 runs Android OS, v5.1 (Lollipop) out of the box, this is in contrast to the Android 4.4 KitKat that runs on the Infinix Hot Note (There is an Android 5.0 Lollipop update though)
Other than that, there is nothing particularly eye-catching, apart from the 16 GB for your files and a Micro-SD slot that can handle up to 32 gigs of memory.
Camera
Rear Camera: 13 MP
Secondary Camera: 2 MP
LED Flash: Yes
The Infinix Note 2 offers a 13 MP camera for general photography and a 2 MP snapper for your selfies. A 13 MP camera is impressive considering I got a chance to play around with the 8 MP snapper on the Hot Note and the results were stunning.
Battery and Extras
Battery Capacity: Li-Ion 4000mAh
The Infinix Note 2 features a massive 4000 mAh battery. This is a generous offering but it will be very interesting on how the battery will be able to cope with the 6.0-inch display.
Extras
Dual SIM
Verdict
The Infinix Hot Note was the first smartphone that kinda proved that you don't have to pay a premium price for the phablet experience.
The massive success of the Hot Note was reason enough for Infinix to turn the smartphone into a sequel.
The Infinix Note 2 will obviously be a hit in Kenya and it being launched just around the festive season makes it the perfect gift for anyone who believes that size does matter (smartphone context

)
Why you should buy the Infinix Note 2
Large 6.0-inch Display
Amazing Design
Impressive Camera Specifications
Cons of the Infinix Note 2
Weak Display Properties
Rivals of the Infinix Note 2
Rivals of the Infinix Note 2 include Wiko Slide 2 (Ksh. 9,999) and Tecno Camon C8 (Ksh. 18,999)
Price in Kenya
The Infinix Note 2 has a suggested retail price of Ksh. 12,499 (1 GB).