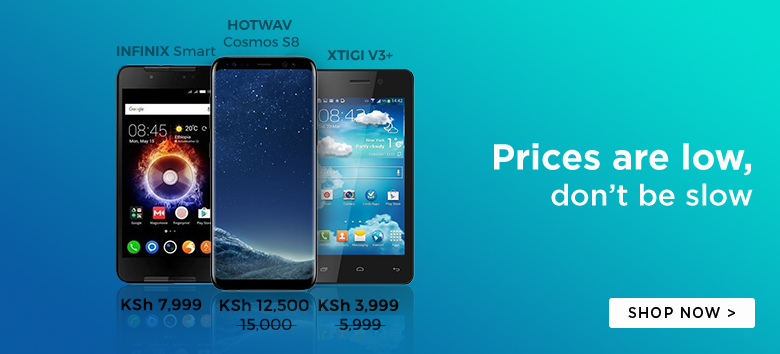 A recent report released by Gartner, revealed that 2014 could see an even larger rise in Smart Devices shipments than it was reported in 2013. Smartphone manufacturers are expected to ship in excess of 2.43 Billion Smart Devices in 2014.
This is a cumulative figure adding up approximately 1.95 Billion Smartphone Phones, 0.32 Billion Tablets, and 0.07 Billion Hybrid devices. Tablets are expected to overtake the PC shipments in 2015 by about 4 million units.
More people are buying Smartphones than ever before, the reason that makes the Smartphone segment of the market larger than that of the PC and Tablets combined.
The Smartphone segment is in fact, expanding and industry watchers project that manufacturers will ship just over 2 Billion units in 2016.
Market trends are showing that the PC market is gradually shrinking, and this is lightly attributed to the recent move by Microsoft to end support for Windows XP. This move saw more firms and private users upgrade their existing systems rather than purchase new ones.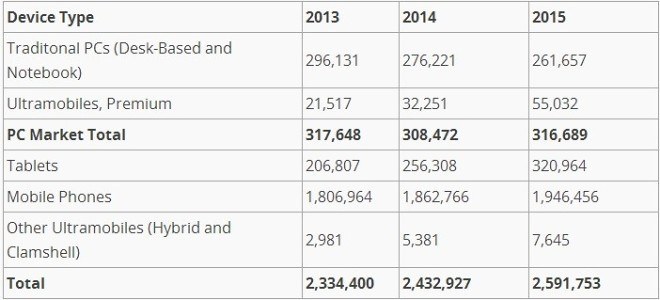 The same trend was replicated on the Operating Systems War whereby the Android OS took the lion's share of the market segment. About 1.37 Billion devices will be sold in 2015; a significant rise from the 1.16 Billion units sold in 2014.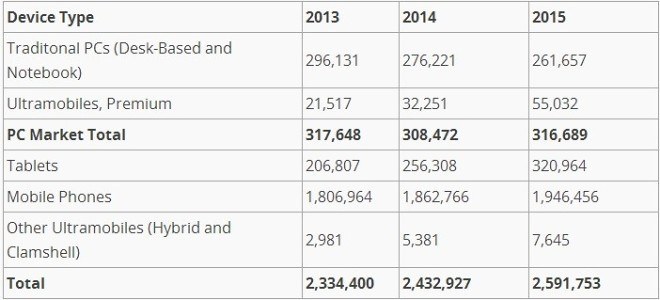 The Windows OS, will in 2014 ship about 40 Million units more than it did in 2015.
Disclaimer: The above figures are not final and could change, particularly over the holiday season.