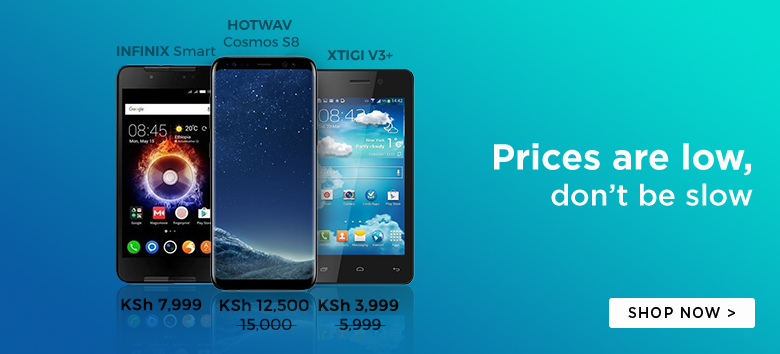 The Tecno DroiPad 8II is the latest budget Tecno Mobile tablet to hit the Kenyan smartphone market.
The Tablet is a successor of the Tecno Droipad 8II and is also among the few budget 4G tablets available on the Kenyan market.
We have done an unboxing article of the Tecno DroiPad 8II and I suggest that you check that out in order for you to get an early preview of what the tablet has to offer.
Related: Tecno DroiPadII unboxing and First Impressions 
Here is what the Tecno DroiPad 8II has to offer.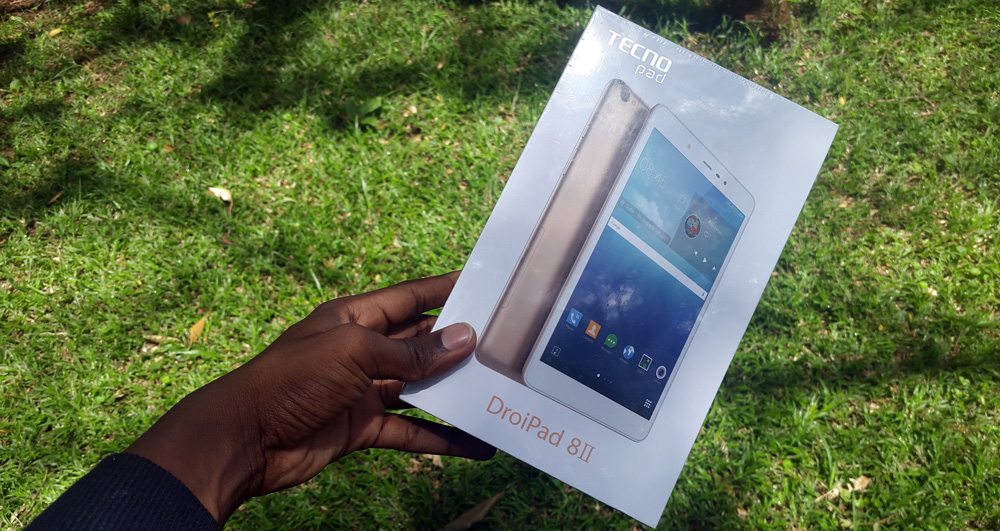 Highlights (Should you buy it?)
The Tecno DroiPad 8II is a tablet optimized for entertainment. This is the core reason why Tecno Mobile wants you to buy the tablet.
You get a bright and vibrant 8.0-Inch IPS LCD display. I totally enjoyed watching movies and TV series on the tablet.
The Tecno DroiPad 8II also comes with a pair of stereo speakers at the bottom of the tablet, a strategic position that allows a smooth audio playback experience regardless of how you place the tablet. Speaking of the speakers, it is interesting that the DroiPad 8II has dual channel speakers while the Tecno Boom J8, a music phone, lacks the feature.
It is, however, slightly disappointing that the DroiPad 8II does not come with a pair of earphones, something that I expected the tablet to have since after all it is marketed as a multimedia tablet.
Another awesome aspect of the Tecno Dropped 8II is the generous 5000 mAh battery. A 5000 mAh battery isn't exactly eye-pooping, but it's still one of the best features of the Tecno DroiPad 8II.
Going 3 to 4 days on a single charge while on moderate usage is normal. You can in fact go for close to a week on a single charge while on light usage.
Overall, the tablet performance was awesome. It performs really well as an entertainment tablet and if that is all you are after, the Tecno DroiPad 8II is a fine choice.
Display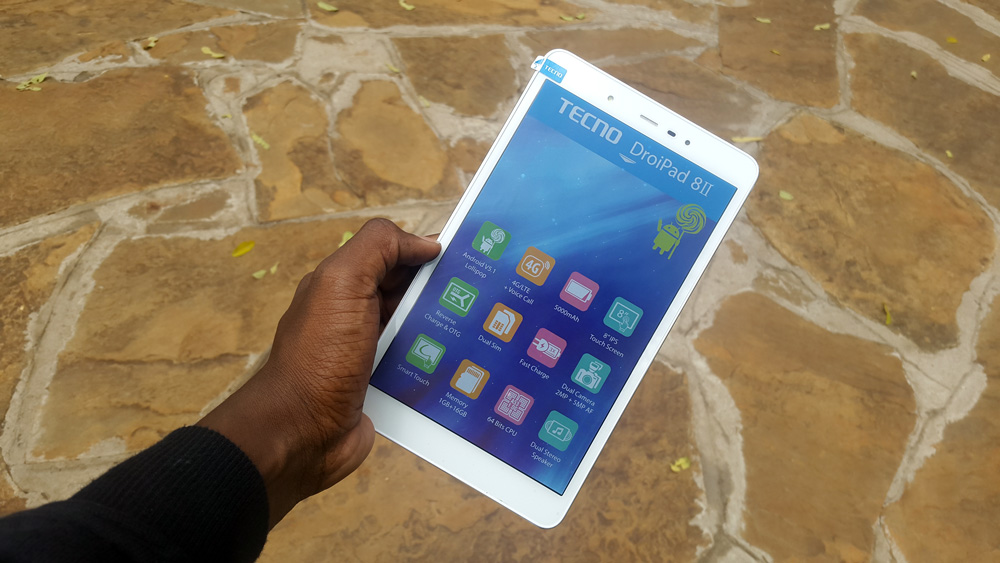 Display Size: 8.0-Inch
Display Type: IPS LCD
Screen Resolution: 800 x 1280 Pixels
Screen Resolution Density: 189 ppi
Screen Protection: None
The display is a highlight feature of the Tecno DroiPad 8II. You get an 8.0-Inch display that boasts of a 800 x 1280 Pixels resolution.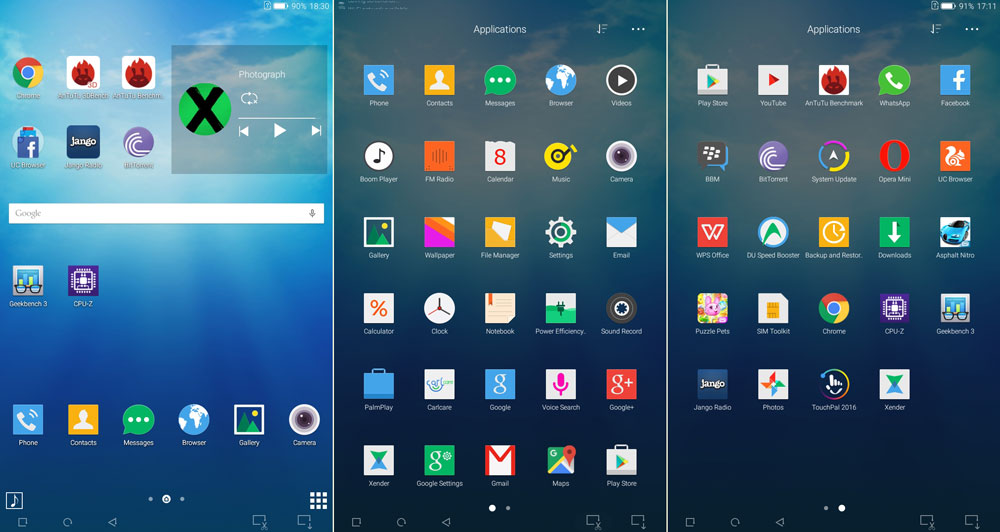 The Tecno DroiPad 8II display is IPS LCD, something that makes the display bright and vibrant. The DroiPad 8II has very decent viewing angles and outdoor visibility is equally impressive.
The tablet, however, really struggles to perform under direct sunlight. You get a lot of reflections from the tablet display, something that is particularly annoying if you are let's say using the tablet close to clear window.
I give the Tecno DroiPad 8 II display a 7/10 rating.
Design
Dimensions: 211 x 123 x 8.3 mm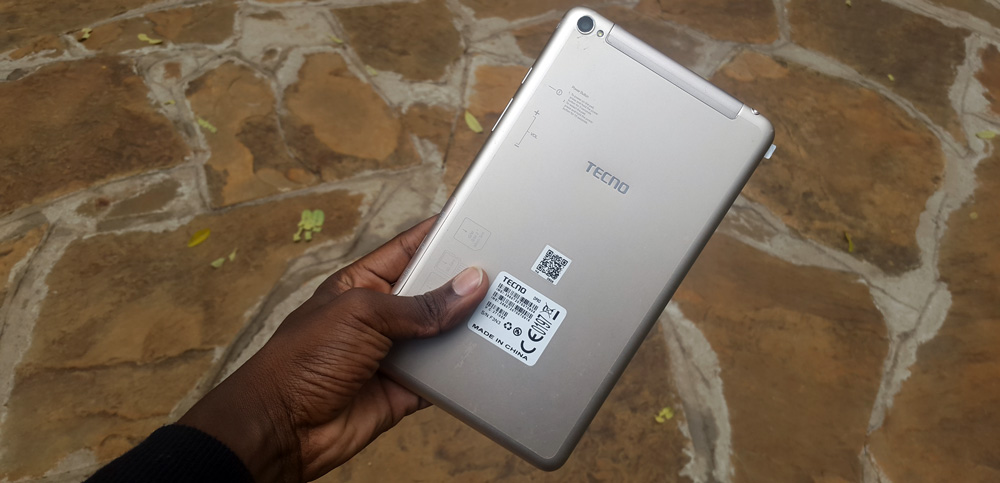 The Tecno DroiPad 8II has an awesome design. It boasts of a solid build and a metallic (non removable) rear cover that looks and feels really good. The Rear cover is a bit slippery, but with time you will get used to the slippery feeling with time.
The tablet is also quite heavy for a tablet it's size. You can, however, easily carry the tablet around.
Performance
Operating System: Android v 5.1 Lollipop
CPU: 1.0 GHz Quad-core Cortex-A53 64 Bit
RAM: 1 GB
Internal Memory: 16 GB
Micro SD: Yes
The performance profile of the Tecno DroiPad 8II is disappointing.  Tecno gives you a meek 1.0 GHz Quad-core MediaTek CPU and 1 GB RAM. This is a rather embarrassing performance profile considering the Ksh. 17,999 price tag of the tablet.
The Tecno DroiPad 8II really struggle to perform resource intensive applications. Mundane tasks such a web browsing that a tablet should perform flawlessly are occasioned with stutters. Running resource intensive applications and games is painful and thus you shouldn't expect to play console-quality games on the Tecno DroiPad 8 II.
Check out the DroiPad 8II Antuntu scores.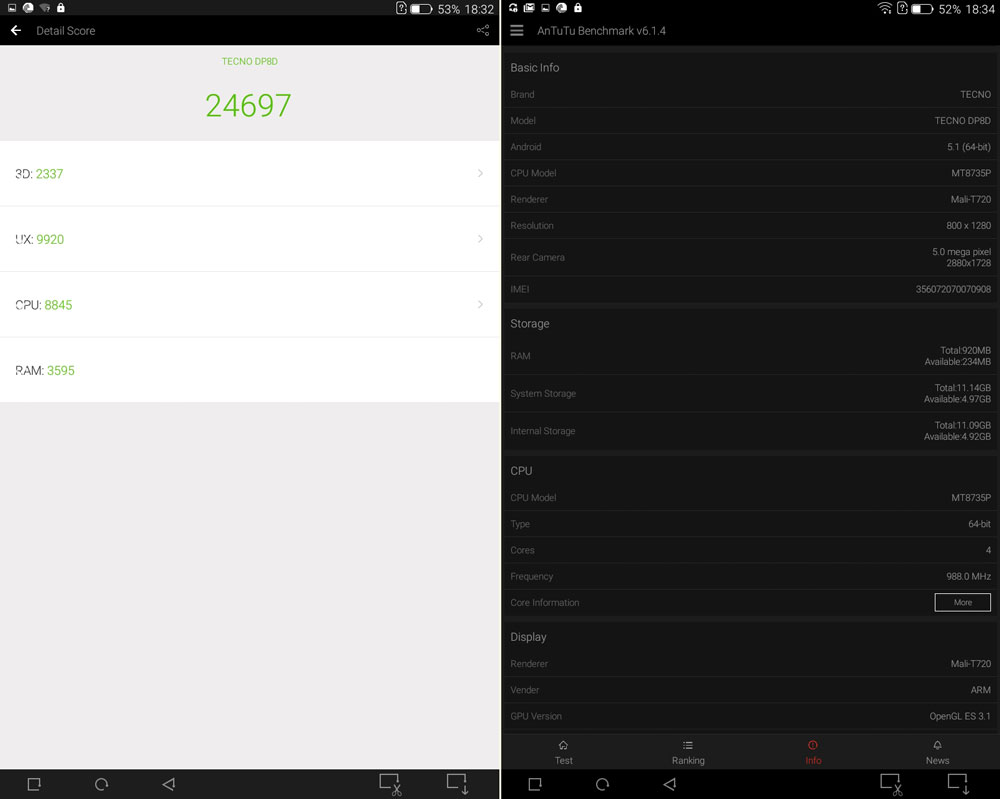 Camera
Rear Camera: 5.0 MP
Secondary Camera: 2.0 MP
LED Flash: Yes (Front and Back)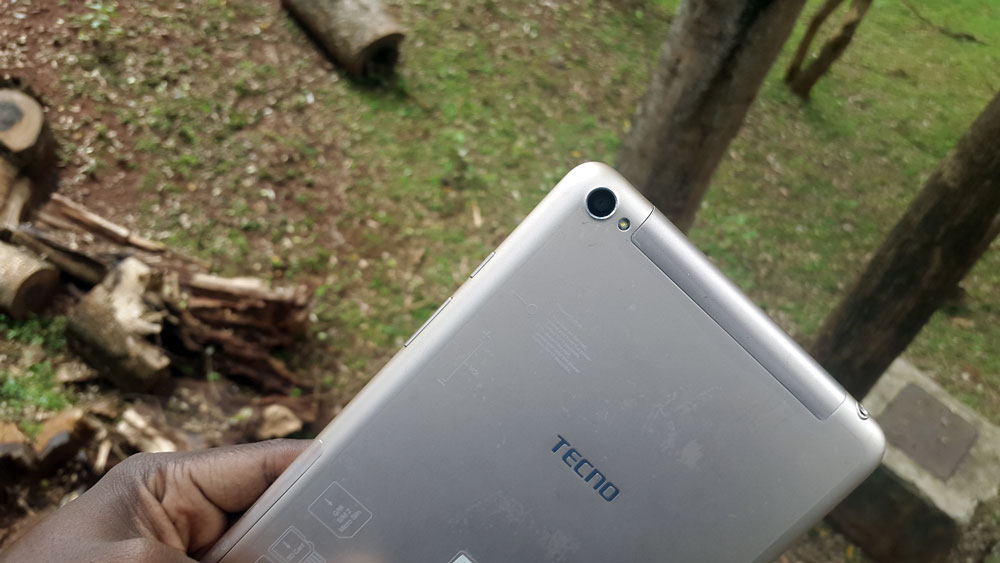 The Tecno DroiPad 8II features a 5.0 Rear camera for general photography and a 2.0 MP camera for your selfies.
Battery and Extras
Battery Capacity: 5000 mAh
The 5000 mAh battery capacity of the Tecno Droipad 8II is one of the highlighted feature of the tablet. The tablet earns an above average rating when it comes to battery performance.
Extras
Dual SIM
4G Internet
Verdict
The Tecno DroiPad 8II is a fine choice if you are out shopping for an awesome tablet experience while on a budget.
Why you should buy the Tecno DroiPad 8II
Great Battery Performance
Awesome Display Profile
4G Internet connectivity
Cons of the Tecno DroiPad 8II
Below average performance profile
Rivals
Rivals of the Tecno DroiPad 8II include the Samsung Galaxy Tab A4 and
Price in Kenya
The Tecno DroiPad 8II has a suggested retail price of Ksh. 17,499 in Kenya (16,499 on Jumia Kenya).
Be awesome and rate the Tecno DroiPad 8II.
Tecno DroiPad 8II Review: Everything you need to know

,