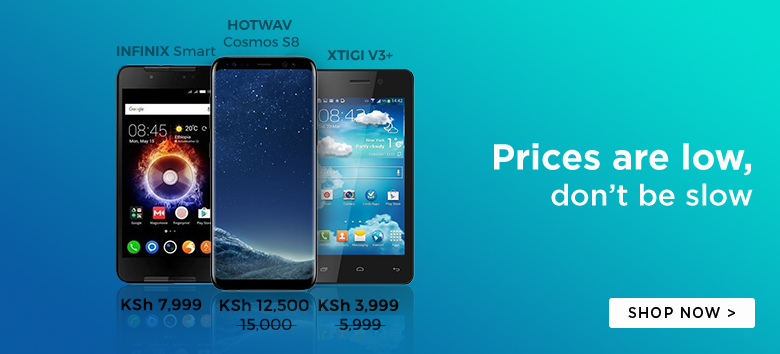 TECNO Mobile is the leading budget smartphone brand in Kenya. TECNO has grown over the years and currently has some of the best smartphones available on the Kenyan market.
Browse through our up to date list of the latest TECNO smartphones in the market. The list includes the best prices and where to purchase the smartphones online. The smartphones are ranked from premium to the most affordable.
We advise that you check out the links to the comprehensive reviews of the smartphone to get better insights on what the smartphones has to offer.
For online smartphone purchases, MobiTrends.co.ke recommends that you shop on either Jumia or Kilimall.
| GADGET | REVIEW | BEST PRICE | BUY ONLINE |
| --- | --- | --- | --- |
| TECNO Phantom 6 Plus | TECNO Phantom 6 Plus Review | Ksh. 31,999 | Jumia | Kilimall |
| TECNO Phantom 6 | TECNO Phantom 6 Review | Ksh. 24,999 | Jumia | Kilimall |
| TECNO Camon CX | TECNO Camon CX Review | Ksh. 19,999 | Jumia | Kilimall |
| TECNO Camon C9 | TECNO Camon C9 Review | Ksh. 17,499 | Jumia | Kilimall |
| TECNO Boom J8 | TECNO Boom J8 Review | Ksh. 15,999 | Jumia | Kilimall |
| TECNO Camon CX Air | TECNO Camon CX Air | Ksh. 14,999 | Jumia | Kilimall |
| TECNO W5 | TECNO W5 Review | Ksh. 12,999 | Jumia | Kilimall |
| TECNO Camon C7 | TECNO Camon C7 Review | Ksh. 11,999 | Jumia | Kilimall |
| TECNO L9 Plus | TECNO L9 Plus Review | Ksh. 16,999 | Jumia | Kilimall |
| TECNO Camon L9 | TECNO Camon C7 Review | Ksh. 11,999 | Jumia | Kilimall |
| TECNO L8 | - | Ksh. 9,999 | Jumia | Kilimall |
| TECNO Y6 | TECNO Y6 Review | Ksh. 8,999 | Jumia | Kilimall |
| TECNO W5 Lite | TECNO W5 Lite Review | Ksh. 8,499 | Jumia | Kilimall |
| TECNO W4 | TECNO W4 Review | Ksh. 7,699 | Jumia | Kilimall |
| | | | |
| | | | |
Next: Infinix Smartphone Price List